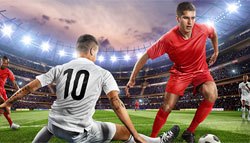 Sports injuries can happen to both amateurs and pro-athletes at any time. Typically, they result from incidents caused by improper warm-ups, faulty gear, and harsh impacts. However, some of the most common impairments occur progressively due to repetitious use of muscles and tendons while practicing and playing the game.
If you've been in a sports accident you won't find a more welcoming and experienced team to give you precise sports injury treatment in West Houston than from the team at Texas Regenerative and Integrative Centers of Health.
Common Injuries Treated By Our Houston Sports Injury Chiropractor
Sports injury treatment with chiropractic care covers a broad array of various types of injuries from the head to the feet. Some of the most common injuries athletes seek out our natural, non-invasive care to treat include:
Strained and sprained ankles, wrists, hamstrings, and groin pulls.
Back pain caused by herniated discs, subluxations, and spinal fractures.
Neck pain due to shoulder injuries or whiplash from impacts.
Shin splints in frequent runners.
Concussions, headaches, and migraines from head injuries.
Heel spurs a.k.a. plantar fasciitis.
Runner's knee a.k.a. patellofemoral syndrome.
Golfer's/Tennis elbow.
MCL and ACL injuries pre and post-surgery when necessary.
Our sports injury chiropractor in Houston treats many other conditions that athletes may experience in their careers.
Sports Injury Treatment Techniques Used By Our Houston Chiropractor
Our Houston chiropractor team has a solid mission to help you get pain relief and expedite your healing process. We aim to accomplish these goals by using holistic chiropractic care to avoid avoiding the need for surgery that could require long down times and pain medications that merely mask the symptoms. We get to the source of your sports injury and address the core causes so you can get off the sidelines and back in the game. Our techniques and services include:
Chiropractic Adjustments:

Our chiropractor provides hands on and tool assisted spinal adjustments to realign vertebrae, ease subluxations and alleviate pressure from nerves that source pain. Maintaining spinal health can help you heal and regular maintenance treatments can improve overall health and your sports performance.

Physiotherapy Techniques:

We employ moist heat, cold laser therapy, electric stimulation, and ultrasound therapies to ease swelling, increase blood circulation, and promote tissue healing processes deep beneath the surface.

Corrective and Rehabilitative Exercises:

Regain mobility faster and increase overall strength with a customized sports rehab program with our experienced team.

Acupuncture:

This natural technique has been shown to effectively treat sports injuries including strains, sprains, swollen muscles, shin splints, back pain, heat-related conditions and much more.

Rock Tape:

Often used to treat heel spurs, joint sprains, low back and rotator cuff injuries, rock tape allows for joint mobility while speeding recovery and preventing future damage.

Therapeutic Massage:

Our licensed technicians specialize in orthopedic and deep tissue massages in addition to other techniques as a vital part of sports injury treatments.
Make Texas Rich Your Houston Sports Injury Chiropractor
We offer every new patient a no-obligation free consultation with our chiropractic team, so don't delay getting the sports injury treatment you need today. Contact us at to schedule your appointment