Dr. Lisa Patel talks about Pain Treatment on Great Day in Houston Show with Debra Duncan
Dr. Lisa Patel talks about Hair Restoration on Great Day in Houston Show with Debra Duncan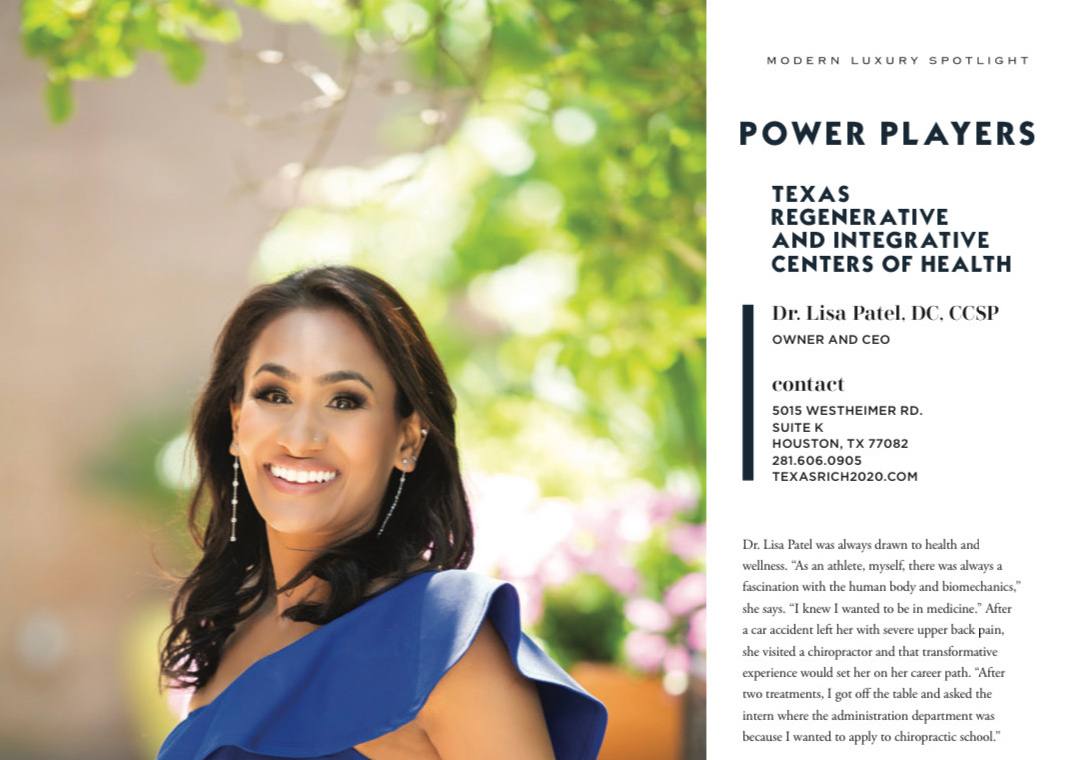 Dr. Lisa Patel was always drawn to health and wellness. "As an athlete, myself, there was always a fascination with the human body and biomechanics," she says. "I knew i wanted to be in medicine." After a car accident left her with severe upper back pain, she visited a chiropractor and that transformative experience would set her on her career path. "After two treatments, I got off the table and asked the intern where the administration departments was because I wanted to apply to chiropractic school."
After graduating with honors from Texas Chiropractic College, she founded Texas Regenerative and Integrative Centers of Health (Texas RICH) in Houston. Her integrative practice specializes in chiropractic care, sports injuries, rehab, exercise, regenerative therapy and IV hydration infusions. They also offer cosmetic services such as Botox, microneedling and hair restoration. "From the day I started my practice, my business ethos has been to treat all of my patients like family," says Dr. Patel. "They come in and feel at home. They know that I take the time to listen to them and understand them."
Dr. Patel's ongoing and continuing education in a variety of treatment modalities ensures that she stays ahead of the game for her patients. She holds certifications and diplomate in sports, acupuncture, Graston Technique, RockTape, and Primal7. The best part of her job is helping people get out of pain and understand their bodies better. "My one goal is to get my patients the care they need," she says.